May 29, 2006
A simple yet useful idea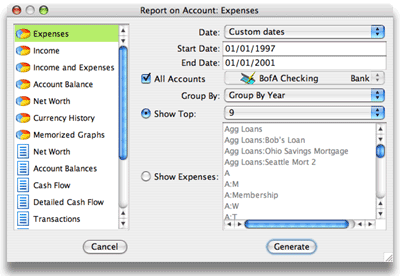 Screenshot
Recently, we switched from Quicken to the slightly-oddly-named Moneydance. Works well, deals well with QIF files, cross-platform, reasonable price, scripting interface, lots to like. Chris and I both work on the bills, and I had the clever idea of using Subversion to hold the data.
So now, the data lives on my server, in svn+ssh access. This gives us both access, allows reversions if something bad happens, and generally makes the whole process pretty darn easy. The access is only via SSH, with key required, so it's pretty secure.
I thought it clever enough to share. Think for a second - what else could use this? Photo library? Hmm.
---
Previous post
Ajax watch browsing
Vacheron Constantin Very cool live watch database, using Amazon data. Choose upper and lower bounds, live incremental search, all very cool. Who
Next post
Just a quick preview
SBDA003 Say hello to the sapphire samurai. For a little while at least, mine is one of a kind. Full review and details to follow, but I had to post